DOMAIN DECOMPOSITION
Domain decomposition in Seismo-VLAB is employed to perform a parallel execution using openMPI. The domain partition is carried out using Metis software in the Pre-Analysis. Here, the model domain is divided so that the number of elements are almost uniform across processors.
The figure shows the domain decomposition performed to a 3D Soil-Structure Interaction building model using different number of processors. In this animation, the domain is sequentially divided from one to eleven partitions. Note how the elements are uniformly clustered leading to very similar colored volumes. As a reference, the mesh has 121944 nodes in total, 105825 elements divided as follows: 2164 lin3DFrame2, 7388 lin3DShell4, and 96273 lin3DHexa8 and PML3DHexa8 elements. In addition, 7 different materials and 19 different sections are employed to define both soil and building domains. The connections between shell/frame and solid as well as PML and soil elements are performed through kinematics constraints. Then, 26247 Constraints are used in order to tie the model together. The SSI problem has around 700000 degrees of freedom in total.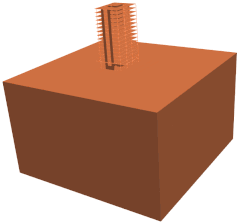 Domain decomposition of a 3D SSI problem model using different number of processors.